Today Julia is a happy and healthy young woman, but seven years ago she was very sick — until a miraculous healing at Eucharistic Adoration changed her life.
Editor's note: This article was published in August and has been updated to share images with our readers.
Today Julia is a happy and healthy young woman, but seven years ago she was very sick –until a miraculous healing at Eucharistic Adoration changed her life. Here is her story.
A Catholic childhood
Julia was raised in a devoutly Catholic family, and her parents helped her and her six siblings to put Jesus first. They lived within walking distance of their parish in the Chicago suburbs, so it was easy for Julia to get to church often.
"My friends and I could meet for early morning Mass before school, and once a perpetual Eucharistic Adoration chapel was established, I could pop over to say 'hi' to Jesus whenever I wanted," she said in an interview with Aleteia.
Julia's family also had a regular Holy Hour slot on Saturday afternoons so that the whole family could spend time in prayer.
"Christ's presence was a comforting constant," Julia said. "When I knelt before the Eucharist, I never doubted that I was visiting a Person, not just a symbol."
A debilitating sickness
Julia's health was never great, but it got much worse in her teens.
After seeing many doctors and undergoing extensive testing, she was diagnosed with Postural Orthostatic Tachycardia Syndrome (POTS), a nervous system disorder that affects heart rate and blood pressure.
"When I stood up or sat upright for too long, the blood would drain from my head, causing me to pass out," she explained.
Julia's condition worsened from needing a walker to a wheelchair to an in-home nurse who helped administer IV fluids.
"Life was appointment after appointment, medication after medication," she said.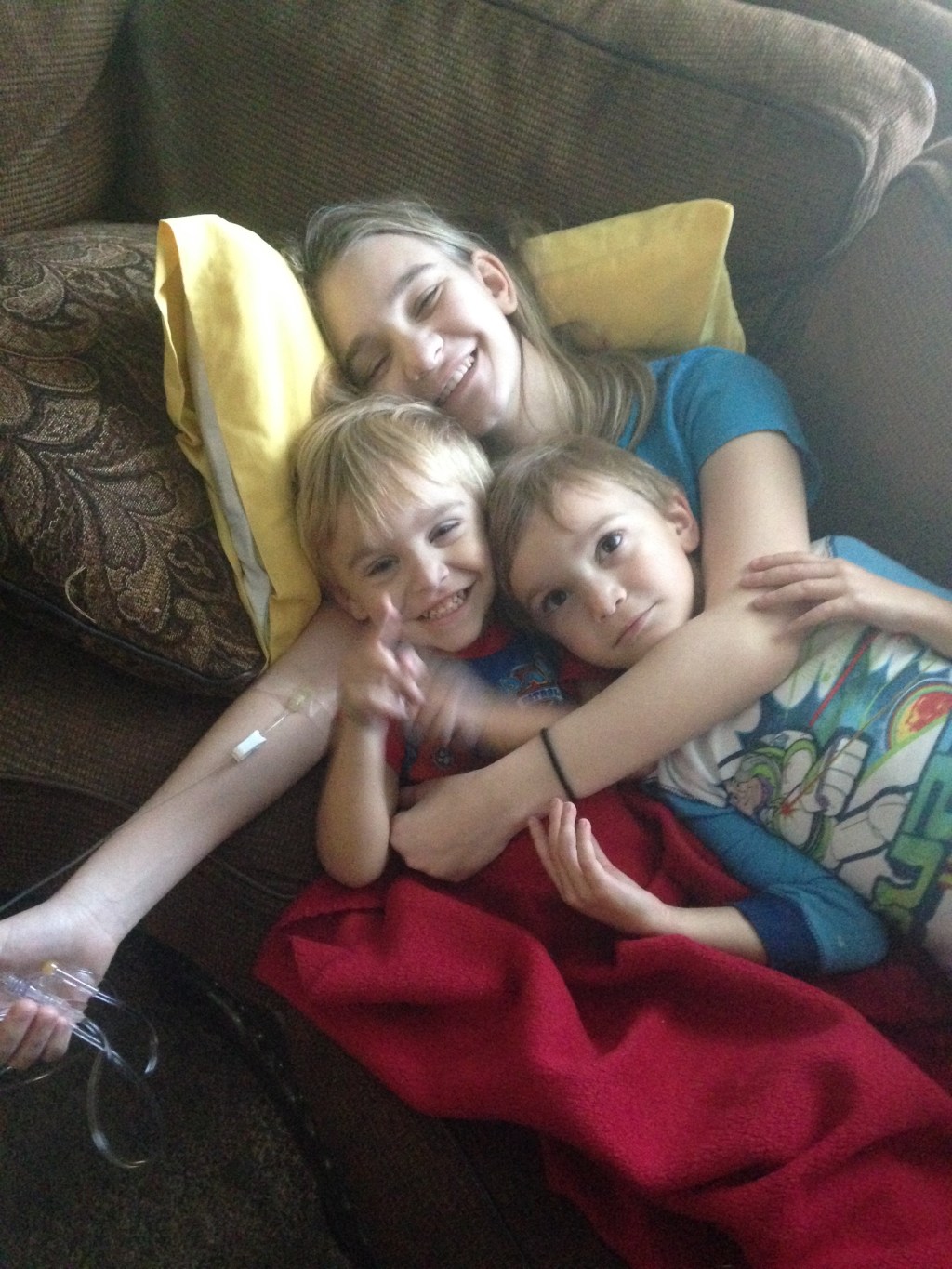 Courtesy of Julia B.
The illness had her completely confined to bed while her friends and peers were heading off to college and finding their vocations.
"In a sense I was in school, too — the school of the Cross," she recalled.
A miraculous healing
On April 1, 2017, Julia went with her family to the Adoration chapel for their regular Saturday Holy Hour.
Julia could not sit upright in a pew, so she lay on an exercise mat in the back of the chapel.
She described the incredible thing that happened that day:
I had prayed for healing before, but the answer was always a very clear "not yet." This time, my prayer was different. It was April Fools Day. Knowing Jesus has a sense of humor, I asked if he would grant me a dramatic healing as an April Fools prank, so I could confuse people with my sudden health. To my surprise, he agreed!
At first she didn't feel any different, and she didn't want to try walking in case she fell.
She asked for confirmation that what she was hearing was genuinely from God, and not just her own mind telling her what she wanted to hear.
I asked Jesus, "I know you don't do this a lot outside of the Old Testament, but if I'm really healed, could you send a physically audible voice telling me it's ok to get up and move around?" He said he would, but I didn't hear anything outside of my own heart just yet.
When it was time to go, her mom teasingly quoted John 5:8, whispering, "Take up your mat and walk." Julia knew that was her sign. She said:
I rolled up my mat, genuflected, and — to the alarm of my parents — began to walk home. It was only a few blocks, but even walking across a room would normally have worn me out. Walking all the way home should have been impossible! My Mom walked beside me, ready to assist if needed, and my Dad followed closely behind in the car, expecting I would need a ride. I told them it wasn't necessary. I was healed!
Courtesy of Julia B.
A shock to everyone
Julia's sudden recovery was a big shock to her physical therapists and medical providers. "The next few days were fun," she said, recalling everyone's surprise. "POTS is an illness that never goes away that suddenly, so it was definitely a miracle."
Soon Julia was back in the dance studio, a passion she had had to abandon due to POTS, and she was able to help start a program for dancers with disabilities — "the type of program I had longed for when I was sick."
Julia is doing well today, and she wants to share an important message:
Miracles aren't restricted to biblical times. The same Jesus who healed the lame man in John 5:8 reached across time and extended the same blessing to me through his Real Presence in the Eucharist. I'm beyond grateful that he healed me of the illness that was keeping me bed-bound! God is so good!

This article is posted with permission from aleteia.org.